We're embarking on a New Chapter in Our Educational Standards!
With great joy, we announce that Sages, a leading IT training company in Poland, became the first in the country to receive accreditation as an ISTQB FL v. 4.0 training provider on September 4th. This makes us one of only two firms currently holding this distinction. This significant achievement marks a new era for us in delivering top-quality education.
New possibilities, new quality
The ISTQB FL v. 4.0 accreditation is a step toward even higher standards in our training programs. It signifies that our materials align with the latest version of the ISTQB training program, enabling participants to acquire up-to-date and comprehensive knowledge in software testing.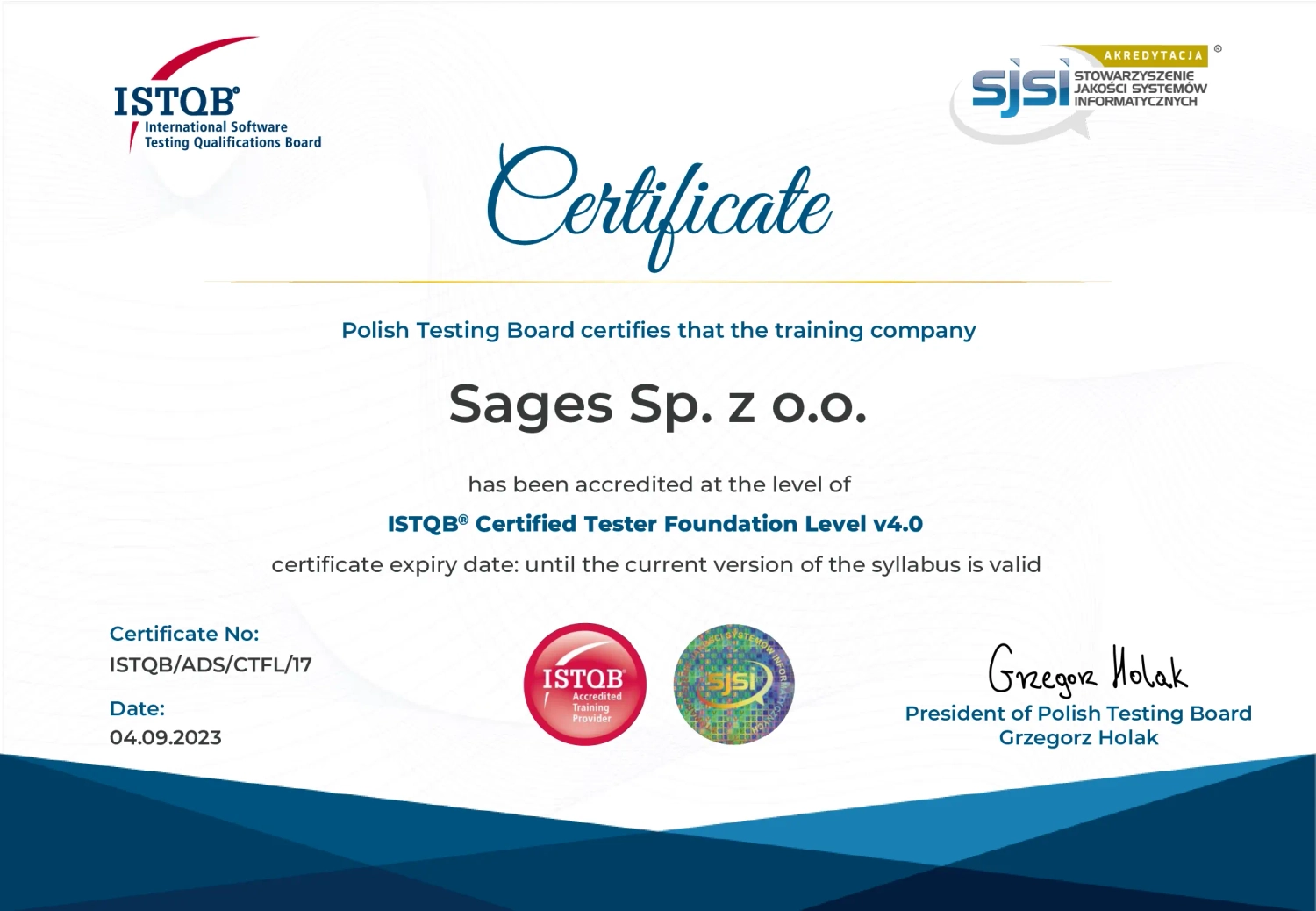 We take pride in our exceptional team of trainers who possess extensive experience and knowledge: Adam Roman, Joanna Kazun, and Hanna Kasprzyk. They are not only highly regarded experts in Poland but also well-known figures on the international stage. Their competencies in software testing are widely recognized and esteemed.
For us, this accreditation is not merely a formality; it is an expression of our long-standing commitment to IT education. By providing participants with the latest content and information, we support their professional development and open doors to the fascinating world of software testing.
It is evidence of our efforts to become an even better company in the market, delivering high-quality educational programs.
Trust and professional growth
We are excited about this new chapter in our educational journey and hope you will join us in exploring new horizons in the field of software testing. Receiving the ISTQB FL v. 4.0 accreditation is an honor and a challenge for us, which we embrace with passion and professionalism.
Therefore, we would like to invite all interested individuals to our ISTQB® - Foundation Level training (course and exam), scheduled in accordance with the CTFL 4.0 syllabus, on November 15-17 and December 18-20.