Technology for universities
Chatbot to support dean's office, staff, students and candidates
Contact us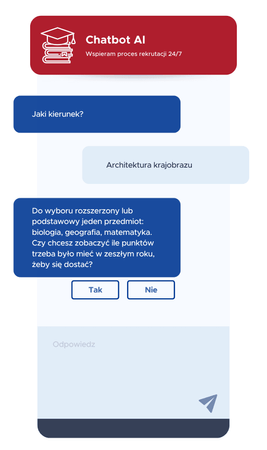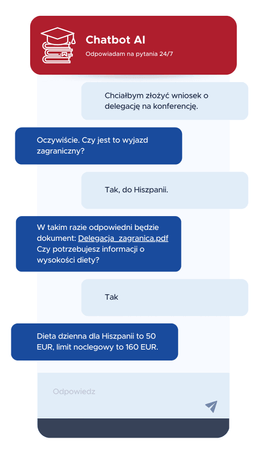 The chatbot answers questions related to recruitment process
It can also answer questions based on historical data from previous years.
It will guide the students through the recruitment process.
It can send reminders to logged-in candidates and motivate them to submit the relevant documents.

Chatbot will answer general questions related to studying at the university or a particular department.
It will answer questions related to the student's situation at the university, e.g., it will send notification of the exam grade
It will inform about dean's hours and other events.
It will provide data on specific subjects e.g. language, course description, lecturer.
It can send reminders about deadlines.

Chatbot will answer general questions about the university.
It will help in processing applications (it will redirect to the appropriate pages, answer questions about procedures).
It will inform that enough students have gathered for the subject to start.
It will send reminders about application deadlines.
Integration with university systems
Contact us
Contact form
The data administrator is Sages Sp. z o.o. with its registered office in Warsaw at ul. Nowogrodzka 62c. Provision of data is voluntary. The person to whom the data relates has the right to access, change and delete the data in the manner specified in
Privacy policy.