According to the April 4, 2019 law on digital accessibility of public entities' websites and mobile applications, all websites and applications of public institutions must become accessible. As for text and text-graphic documents, multimedia presentations and spreadsheets, only those published before September 23, 2018 are not obliged to be digitally accessible, unless they are necessary for carrying out the institution's current tasks or using its services. In contrast, all other documents must be adapted. Few entities comply with this obligation, as it involves difficult and time-consuming work. This should definitely be taken into account when adapting one's digital ecosystem to the needs of OzN. As a result, people with various disabilities, e.g. hearing, vision, movement, as well as cognitive impairments or intellectual disabilities, will be able to comfortably consume content online."[1]
WCAG at a glance
A website or mobile application is digitally accessible when it meets the requirements collected in the international standard WCAG (Web Content Accessibility Guidelines)[2]. These are standards for adapting websites, digital documents and applications to the needs of people with disabilities.
The WCAG standard is based on four principles: perceivability, functionality, understandability and robustness (otherwise known as compatibility)[4]. These are not technical guidelines. They are intended to represent the perspectives of different users, e.g., those who want to know what's in a photo but can't see it, or those who enlarge the view of web pages or change colors to see content better. This applies to all digital documents, web elements and mobile applications, i.e. content, code and how they work. Aspects such as adapting content to readers for the visually impaired, proper color selection, appropriate vocabulary or good captioning of graphics and videos are important.
Who must comply with WCAG standards? List of entities covered by the Accessibility Act
Article 2 of the Law on Accessibility of Websites and Mobile Applications stipulates the public entities covered by the digital accessibility law. These are: units of the public finance sector, e.g. public universities, independent public health care institutions, state and local government cultural institutions (e.g. libraries, museums), district courts, district courts, administrative courts, local government units, government administration bodies, state control and law protection bodies, state organizational units without legal personality, e.g. schools, kindergartens, partnerships (general partnership, partnership, limited partnership, limited joint-stock partnership), housing communities, capital companies (joint-stock and limited liability), ordinary association, "legal entities, established to meet needs of a general nature, if:
finance them more than 50% or
own more than half of the shares or
exercise supervision over the governing body, or
have the right to appoint more than half of the supervisory or management body. In addition, also associations of these entities."
Another obligated group is non-governmental organizations working to promote and protect the health of people with disabilities and seniors.
Hefty fines for public institutions for failing to make websites comply with WCAG guidelines
Websites must be accessible as of September 23, 2020, and mobile apps as of June 23, 2021. According to the Accessibility Law: "A monetary penalty, (...) is imposed on a public entity in the event of failure to prepare and publish an accessibility declaration, or failure to have the elements required for an accessibility declaration indicated (...). And also "A fine, (...) is imposed on a public entity in the case of failure to ensure the digital accessibility of the entity's website of the Public Information Bulletin(...) and elements and functions of the website or mobile application(...) that persistently and unreasonably violate the provisions of the Accessibility Law (...). "4
Unreasonable and persistent means, failure to improve the digital accessibility of the website or application in annual monitoring. In the case of sites or applications, this includes three consecutive monitoring, and in the case of accessibility declarations, two. This also includes an increase in the number of legitimate complaints that relate to the inaccessibility of the site or application.
The amount of the fine is divided into two thresholds. The institution will pay a smaller fine of PLN 5,000 if the problem is related to the accessibility declaration. However, if the problems are related to the website or mobile application, the penalty will be PLN 10,000.
Is adjusting a website enough to be WCAG compliant?
Adapting a website to comply with the WCAG guidelines is not just about adjusting the websites themselves. The websites of institutions, companies and organizations often contain additional documents that are available for download by the user. Documents in PDF format, which include regulations, ordinances, presentations, flyers, as well as scans of documents, are not automatically WCAG-compliant, even when the website itself that makes them available has been adapted. Additional, individual work on each document individually is necessary for such a document to be considered compliant with the guidelines. This work involves the manual labeling of each element of the document, including but not limited to: identifying the structure of the document, labeling the reading order, and adding alternative texts to non-text elements.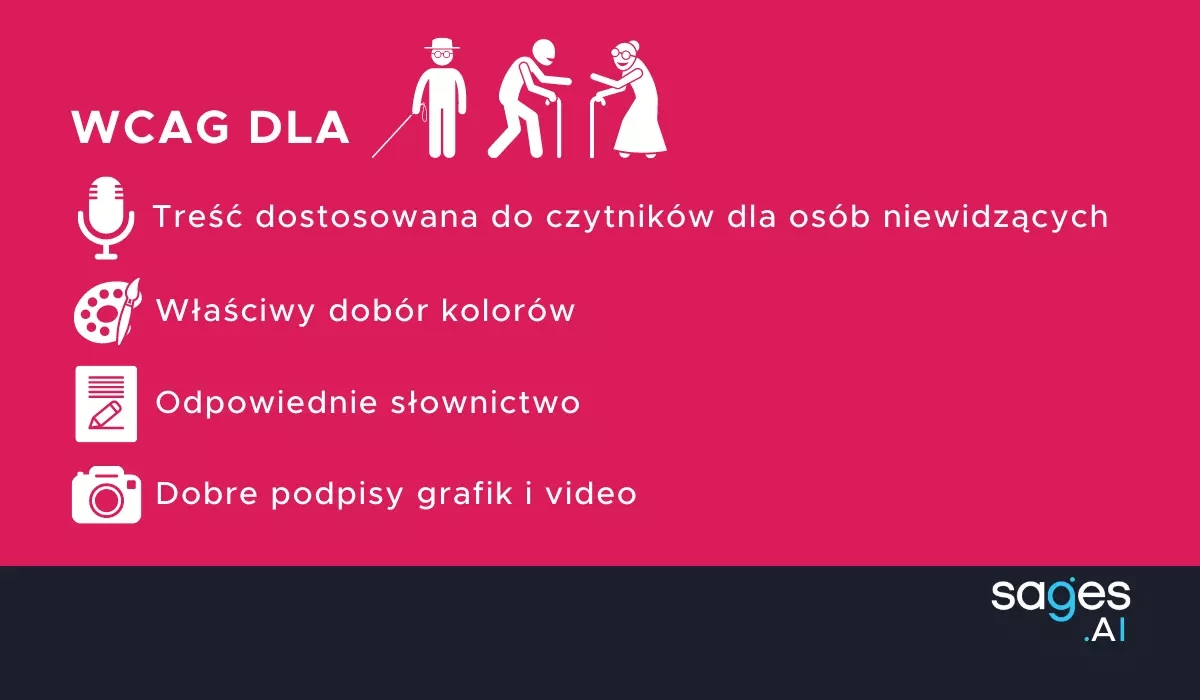 How to quickly make your documents on websites WCAG compliant
You can either opt for a manual solution or use a solution created by Sages - WCAG AI. It is the only automatic tool for adapting digital documents. Why should you opt for it? To use an analogy - a text written by a person who does not know Polish orthography requires detailed correction. It will take a lot of time for a human to correct the text and carries a higher risk of overlooking some errors. In the case where the document is first checked by a word processing plug-in, which automatically marks the wrong words and corrects them, the human work is limited only to checking the whole thing. In addition, the WCAG AI tool is based on artificial intelligence, so over time it works more and more efficiently almost eliminating human work. This means it is faster, cheaper and more reliable.
WCAG AI recognizes the structure of documents and indicates the reading order, so that even files erroneously exported to PDF, which do not contain subheadings, etc., can be interpreted correctly by special screen readers used by blind people. The element recognition model in text documents makes it possible to navigate through the text, skip specific information, move to the next point or the next table. The tool from Sages, thanks to its architecture based on deep neural networks, will identify elements in the image, interpret the scene, taking into account adjacent elements and the original text caption, and generate a short and concise description of the information contained in the image in the context of the document content. A very important functionality especially for administrative or scientific documents is the ability to correctly interpret tables and charts. In addition, WCAG AI normalizes the image - it corrects the brightness and adjusts the contrast, which makes it easier for visually impaired people to read the image. It creates explanations of difficult terms, detects and translates passages of text in foreign languages, and develops abbreviations. The user has an immediate opportunity to check the definition or development of an abbreviation.
Footnotes
https://www.gov.pl/web/dostepnosc-cyfrowa/omowienie-wymogow-dostepnosci-cyfrowej-dla-podmiotow-publicznych
Law of April 4, 2019 on digital accessibility of websites and mobile applications of public entities, Journal of Laws. 2019 item 848